Discover more from The Reputation Algorithm
It's an algorithmic world and we're just living in it. David Erickson examines how digital platforms' algorithms influence and effect how our reputations as individuals and as organizations are perceived.
Midjourney Prompts For Substack Posts
Experimenting with creating a consistent aesthetic with Midjourney for Substack posts
I'm trying to arrive at a consistent asthetic for the images I create for my posts here on Substack. I've decided to go all-in on using Midjourney to create these images for several reasons:
I cannot consistently find images that match my content using free stock image libraries

Even if I had a budget to buy images from the Getty Images of the world, many of the topics I discuss are so conceptual that even the for-fee image libraries will lack what I need

Midjourney is simply an amazing AI image generator
At this stage, I've been playing around with prompts just to try and understand how they work and what Midjourney is capable of.
Chapter 2 of my book is devoted to websites, the first section of which discusses the hub-and-spoke approach to digital marketing for which I use the "all roads lead to Rome" metaphor to illustrate the concept.
What follows are my attempts to create an image for that chapter section. Each image includes the prompt I used, which should give you an idea of what different prompts can produce.
I started out just using "all roads lead to rome" followed by some art style keywords:
Interesting but not what I'm looking for. Apparently, you can use any word concantenated with the word "core" to produce interesting results. So I tried:
Better, but for the first one, a road doesn't actually run through the coliseum. And I don't really want ruins; I want something that looks like Rome during the heyday of the Roman Empire. So I try this:
Adding "during roman empire era" to my prompt made it even better. Next, I tried adding artistic styles just to see their effects.
Okay, adding "anamorphic art style" looks pretty cool but I can't tell if those objects in the air are supposed to be birds or a scene out of Inception. And I'm still seeing ruins.
The Reputation Algorithm is a reader-supported publication. To receive new posts and support my work, consider becoming a free or paid subscriber.
This is a pretty cool look except you definitely get what you ask for when you prompt for "bacteria art"!
You get an interesting photographic look with the "infrared" prompt, which could provide a consistent aesthetic across all images I might create but it's not what I'm looking for.
Prompting for "batik," "majolica," and "mosaic" gives you an ornamental or decorative style which is not what I want.
"Kirigami" gives you a very cool paper construction look but, again, not what I'm looking for and this style wouldn't work for me as a unifying theme.
Wow. While "Ferrofluid" generates a very cool look, it's too abstract for my needs. Next, I tried just adding descriptive words.
"Pastoral" adds animals! Except that beast of burden in the foreground sports five legs and some weird musculature while the elephant-like behemoth lacks a trunk and makes up for it with three tails. 🤣
The "majestic" prompt generates a decent look. The spots in the air look like birds, not pieces of buildings, but don't focus too much on the sculpture atop the bilding the foreground. What is that thing?!?
Next, I added the world "triumphant" to go along with other descriptive words.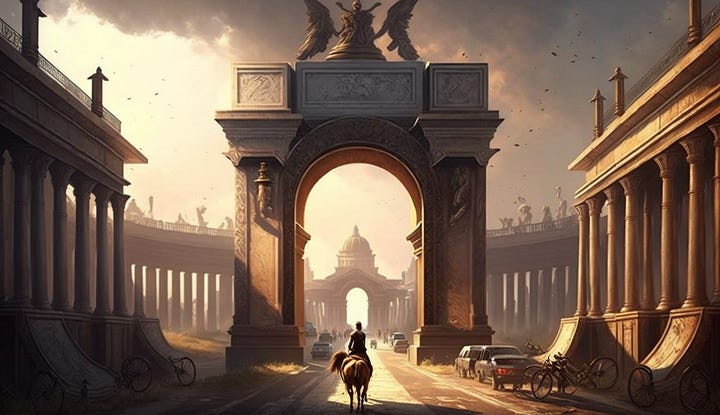 "High definition" generates a very nice look except, are those spider webs on the arch in the foreground? Those must be some mighty big spiders. Also, those spots in the air don't look like birds to me.
These are getting closer to what I'm looking for: I want to illustrate a road or roads leading to Rome.
Looks like including the phrase "italian renaissance" might have helped remove the ruins from the image. Or did the nonsense word "gimmiewongst" do that?
Next, I try different lighting keywords.
At first glance this one looks pretty cool but that's an awfully misshapen head atop the horseman and the road is not exactly leading to Rome, is it?
These could work, but…
I really like the tilt-shift photography look, so I think I'm going with that for my next chapter section, which will be published on Wednesday.
What do you think? Are there prompts you really like that I should try out?